I was in high school, a self-described book nerd, when I first saw a character on TV that I believed was me reincarnated, her name was Rory Gilmore. Rory loved books, drank obscene amounts of coffee, loved the Shins and Belle and Sebastian, and dreamed of being the next Christiane Amanpour – we were perfect for each other.
She was my fictional hero, a young woman who was valued more for her intellect and quick wit than her beauty. A healthy change from our culture's overindulgence in the beautiful white blonde protagonists of the early 2000s like The O.C or Gossip Girl. But there was one thing that Rory and I didn't have in common: she was white, I'm Latinx. Growing up in fictional Stars Hollow in Connecticut, Rory and her world looked similar yet different from mine.
Even then, I knew light skin was an unspoken requirement for TV, excluding the role of the ethnically ambiguous friend (shout out to Miranda from Lizzie McGuire). On Gilmore Girls, Rory's numerous love interests reinforced the idea that light skinned women were most likely to get the guy, specifically white men.
Nothing I am saying here is shocking – Gilmore Girls had and continues to have a notorious reputation for how it treated people of color. From Miss Kim, Rory's best friend Lane's mother, who they paint as a stereotypical "Tiger mom" with a heavy accent, to Michel, Lorelai's co-worker who they limit to the harmful gay tropes without a meaningful storyline or character development. And let's not forget the worst and most cliche stereotype: the treatment of the maids. The countless women who work for Emily Gilmore are mostly portrayed as women of color with heavy accents and are so interchangeable that their names are optional.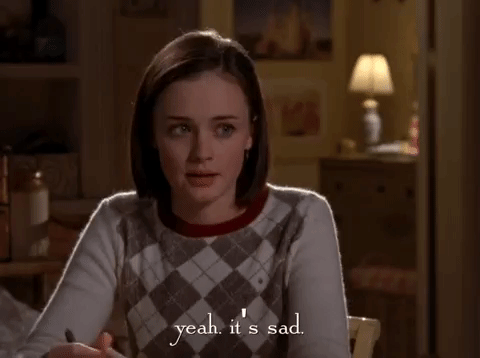 However, the saddest aspect of this show for me lies with its central character Rory. I was a senior in high school when I finally found out the truth. That the actress Alexis Bledel who played Rory over the show's 8 years was in fact half Mexican. Just like me.  She even grew up in a Spanish-speaking household, not learning English until she began school. I trusted that Bledel wasn't hiding her ethnicity on purpose, but the network and the creators of the show certainly were.
Looking back, I think about what Gilmore Girls would have meant to me if Rory wasn't the unattainable white heroine I grew to love. What would it mean for millions of young Latinx women to watch a show with a Latina character who was known first for her intellect and not for her sexuality? What would it have meant for white girls to be asked to empathize with someone just a bit different from them? To see a character that wasn't a criminal, nor constantly worried about her immigration status, nor just a sex object? To follow a girl who spoke Spanglish and had witty references to the genius of Allende, Cisneros, or Selena.
Last year, Amy Sherman Palladino, the creator of Gilmore Girls, created her second TV show The Marvelous Mrs. Maisel to wide acclaim. The show is set in the New York Comedy Clubs of the 50's, conveniently a place that historically wouldn't have allowed people of color. I don't believe this is merely a coincidence. I am sad that Palladino continues to rely on the witty white woman narrative, instead of creating space for a character that isn't from the white communities of Connecticut or uptown New York City. Representation matters whether you're 17 or 27 and I'd so appreciate Palladino expanding from her whitewashed world. Sadly, I can only dream that one-day young Latinx women will have characters in movies and on TV that are as complex as we deserve.